I went out for dinner with some friends last week, our main topics of conversation were:
How tired we are
How busy we are
How much we'd done that day
How quickly time is flying by
You get the picture and I'm sure you've probably had very similar conversations yourself.
I am a busy person, I struggle to sit through a film, the cinema would be my least favourite outing of choice because it involves sitting still for more than half an hour. With both work and home I plan tasks in my head that I 'must' get done that day, if I don't I feel I have failed. I can't watch telly without doing something else at the same time. It's why I knit, at least I feel I am doing something with my hands and something productive with my time. In short, I struggle to slow down – I know I'm not alone!
In the run up to Christmas life was so busy, as it is for everyone, with Christmas shopping, working on the business, getting orders out, school activities, productions etc. In the week or so before Christmas I struggled to sleep at night and by the time Christmas came I felt quite stressed and exhausted from the lack of sleep. Once Christmas got going though, with no work and a lovely lack of routine something strange happened – I started to relax. I would watch tv and be able to concentrate on what I was watching, I read at night in bed and actually got into what I was reading and enjoyed it, I had a long bath rather than a rushed shower. I began to allow myself to spend time doing the little things I enjoyed and actually allowed myself to enjoy them and not feel guilty for not doing something 'productive'. As a result, I started to sleep better and felt happier and more relaxed than I had in a long while.
This got me thinking, I am one of those people who is constantly amazed by how fast the days, weeks, months fly by and I get frustrated because I don't feel I can take enough of it in. But is the reason it does fly by so quickly because we are so immersed in the busyness of life to notice what is actually happening in the moment? For me I think it is. There's almost a pride these days in how busy we are, how many clubs our kids go to, how many nights of the week we are out – but why?
I mentioned the other day on Instagram that in the past I have struggled with being a stay at home mum working on my business while my children are at school because I feel like I constantly have to justify my time, although no one is actually judging me bu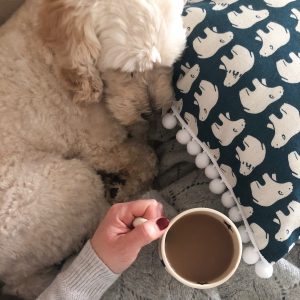 t me. I feel almost guilty sometimes about stopping for a cuppa and half an hour of telly where I could be working or doing the washing or getting the dinner prepped. We all know how these tasks never end, but on the times I have allowed myself a break I have been a lot more productive in the hours that follow.
So this month, even this year I am going to try and bottle th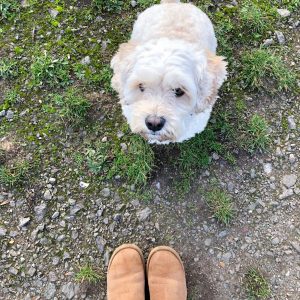 ose feelings of enjoyment at making time to do the little things I enjoy. To slow down and make time to read, go for a walk with the dog without feeling rushed, watch tv in the evenings, without being on the laptop at the same time, do some exercise (yoga and running for me) and make some time for myself without feeling guilty for it. What's that saying – 'You can't look after others if you aren't looking after yourself' or something like that.
So January, for me, is going to be my slow month. Even if my slow month does mean slowly Marie Kondo-ing my way through our house along with the rest of the world, it's good for the soul you know…
Take care!
Sally xx