Hi! How are you all doing? Such a strange, scary, crazy time out there at the moment and I hope and pray that you and your families are keeping safe and well. I've spent a great deal of time over the past couple of weeks feeling sad, worried, anxious for our family and our wider family and friends and worried for all of the small businesses out there but I'm trying to change my mindset a little to also focus on the positives now. With that said, and with a determination not to make this blog all doom and gloom, I thought I'd share with you a few of the things I've felt thankful for this week and some new things I'm trying to do to help me cope which might be of help to you too….
Things I'm grateful for this week…
Having the kids at home – like all of us I think I was wondering how this one would pan out but so far it's actually going ok. We seem to have settled into a routine of doing the set school work in the morning and then being outside and having free time in the afternoon. I'm well aware that this is only week one of how ever many weeks of being at home but for now I'm enjoying the extra time with them.
The sunshine – hasn't the weather literally been a ray of sunshine this week! It's so nice to wake up to the sun streaming in and be able to spend afternoons in the garden and get some fresh air with the dog. Although I'm finding keeping two metres apart from everyone else with the same idea a little stressful while out walking…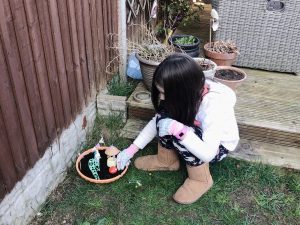 Time to work on the 'admin' side of my business – at the beginning of this week I made the decision to shut my shops and website for a little while. Going out to the post office was getting more and more difficult and seemed unnecessary and while I'm always sad not to be open for new orders my website has been due an update for a long while and I never seem to have time for all of the blogs and newsletters that I have ideas for in my head so maybe now's the time to get those things done.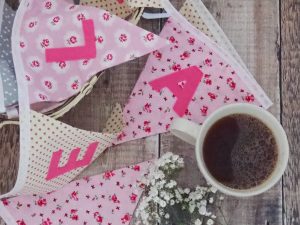 Watching Motherland on iPlayer – I've been recommended this show a few times in the past but not got around to watching it. It's exactly the light relief I've needed in the evenings and if you're a school mum too it'll have you laughing out loud.
Spring cleaning – it feels good to get the windows and doors open finally and give everything a really good clean. I say everything, I've spring cleaned one bathroom so far but small steps and big plans and all that.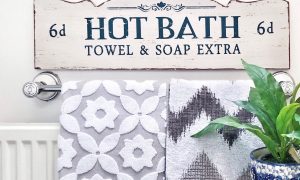 Knitting – knitting has always been a bit of a saviour to me when I'm feeling anxious. Having something to do with my hands is really calming to me and it stops me reaching for my phone and scrolling yet more depressing news!
And things I'm trying to be better at…
Reading – Truth be told my anxious mind has struggled to concentrate on reading recently but I have started The Tattooist of Auschwitz and whilst it's a bit harrowing in places I'm enjoying it so far (that sentence doesn't sound quite right but you know what I mean!) . If I find the story is not helping my mental state very much I may need to switch to some chic lit for a while though!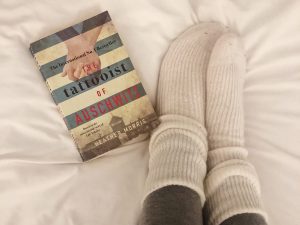 Stepping away from my phone – Instagram for me is uplifting, I find inspiration and a sense of community there. Facebook and various news sites are not, I have been spending far too much of my time lately Googling and reading horrible news stories and needless to say it hasn't been doing me any good. I'm trying to have set times in the morning and evening now to catch up and only look at necessary news headlines and positive stories.
Being better at food management – nothing like not being able to get all of your usuals in Tesco to make you realise how lucky you normally are, appreciate what you have and attempt to waste nothing! I'm enjoying meal planning and batch cooking and keeping my fingers crossed that the limited choice might sort out some fussy eating issues we might have pandered to in the past (including my own!).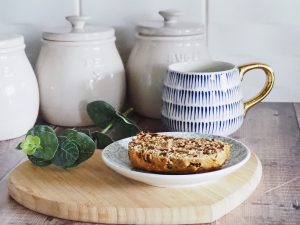 Remembering to pray rather than worry alone – faith and prayer is very important to me and usually something that comes naturally, I pray about everything from car parking spaces to more serious issues but in this time of crisis I've found the words haven't come so easily. Instead of sinking into a pit of worry I'm trying to give my concerns over to prayer, trust and reading.
Exercise – like almost every family we know we have been joining in with #pewithjoe on and off this week and aside from the fact that it made me ache in muscles I never knew I had (I thought it was going to be a kids work out when I agreed to join in) it's been great. I walk a lot with the dog but it would be good to get back into my Couch to 5k app again as part of my daily exercise. Taking this one slowly though, no pressure!
Journaling – this is an absolute newbie to me. I love an appointment diary and a good old to do list but writing about my feelings is a whole new concept. I've heard a lot about 'morning pages' and journaling and didn't think it was for me but I'm going to give it a go. I'm figuring that this time in my life might be something I might want to look back on at some time and knowing how you have coped with things in the past can be very helpful going forward I think.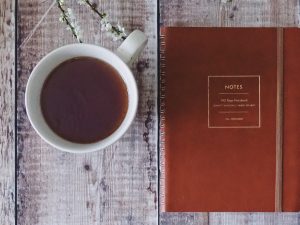 Phew… that's it for now. Personally, I'm finding it really helpful reading about how others are adapting to their new routines and what coping measures they have in place so I hope this might have been a bit useful for you to read but I also think it's important to remember that we're all bound to have days during this time when we can't muster the energy to do anything other than just get through and that is absolutely ok. We all need to take care of ourselves right now. Don't forget I'm always up for a chat on Instagram if you fancy it…
Until next time, thank you for reading!
Love
Sally xxx