As the summer turns to autumn I've been thinking about some of the things I've enjoyed most about the summer holidays. Here's a list of ten of my favourites…
More time with my babies who aren't really babies anymore… I'm ever aware of how quickly they're growing up so it's always a bonus to have this extra time with them.
The lack of routine… I love that we have the ballet, the football and the swimming in our lives (sometimes) but isn't it lovely to have your evenings and weekends completely free of these just for a little while.
Investing in a National Trust pass… we got out and explored lots of lovely places nearby that we perhaps never would have known were there and learned a little bit of history along the way.
Visiting Cornwall… one of my favourite places in the world. Beautiful even in the rain and gale force winds we experienced towards the end of our week away!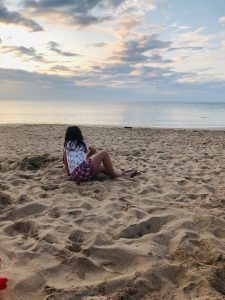 Not feeling (too) guilty about screen time… always a tricky one but I decided that in our house balance was key. We went outside a lot, we spent some time at home relaxing – perfect!
Having a good sort out… I'm a bit of an organisation and tidy freak inside. Throughout the six weeks I slowly managed a good sort out of most of the cupboards and wardrobes in our house and it felt soooo good to start September feeling organised.
Taking a break from the business… I realise how lucky I was to be able to do this but having this break gave me family time and time to refocus, start energetically and helped me to remember why I love my work so much. I'm excited for the new things I have planned over the next few months.
Having time to read… I'm generally a bedtime only reader and not having to get up so early meant I could stay up a little later reading – something I love to do. I managed to read three books (a lot for me!), I'll maybe do another blog on what I read.
Turning 40… can't believe I'm including this in the things I loved since I was actually feeling really weird about it but I had such a lovely time with friends and family and it made me realise again how lucky I am for the people I have in my life.
Realising how much my children have grown and changed over the last year. Both a love and a bit of a heart breaker. Summer holidays seem to do this to me, I realise how much further they can swim, how much more independent they are etc. It makes me a mix of emotional and excited for how they are growing.
What things do you love about summer I'd love to hear…
Sally x
| | | |
| --- | --- | --- |
| | | |