I've compiled a blog post of frequently asked questions that I'm often asked before customers decide to buy. I hope these will be helpful but as always if you have any other questions don't hesitate to message me:
QUILTS & BLANKETS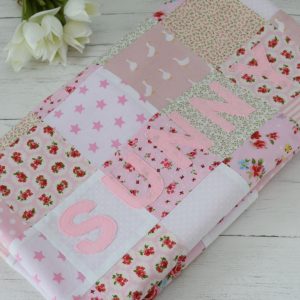 Q: Can the quilts and blankets be machine washed?
A: Yes, my quilts and blankets are machine washable on a cool 30 degree setting. It's helpful to use a laundry washbag or a pillow case if you have one as this can help to prevent bobbling. The nature of patchwork is that it will pucker slightly over time the more it is washed but this simply adds to the vintage style of the item.
PLEASE NOTE: The patchwork top may be ironed on a cool setting but felt lettering and dimple minky fleece should never be ironed!
Q: Can I have a quilt or blanket personalised?
A: Yes, for both blankets and quilts I have a listing for both personalised and non-personalised items.
Q: Can I choose my own colour scheme for my quilt or blanket?
A: Absolutely! If you are ordering a 'made to order' blanket I am very happy to discuss your fabric choice and colour scheme with you before ordering and work with you to get the best fit for your needs. Please note that on some occasions the price may need to be adjusted accordingly depending on the cost of the fabric you require, this will always be made clear before ordering.
Q: Can I have a 'ready made' quilt or blanket personalised?
A: I'm afraid not as my names are stitched in before the quilt is finished but always ask and I may be able to replicate or create a similar item and personalise it for you.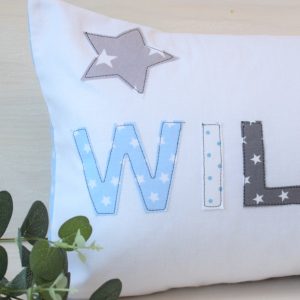 NAME & INITIAL CUSHIONS
Q: Can the pillow cases be machine washed?
A: Unfortunately, due to the nature of the applique, my pillow cases are spot clean only.
Q: Can I request a different colour scheme or shape?
A: Of course, I'll always try to accommodate your request where possible.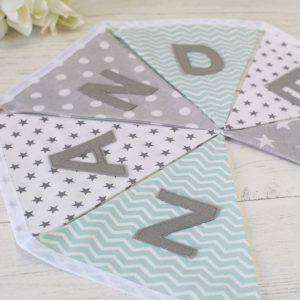 PERSONALISED BUNTING
Q: Can I request more end flags?
A: Yes! Just pop me a message to let me know how many extra end flags you would like and I'll cost them accordingly for you.
Q: Do you make plain fabric bunting?
A: I do, if you would like to order some plain, non-personalised, bunting simply message me and I'll cost up a custom order for you.